This is part two of our Travel Mythbuster series. you can catch the other parts here: Part 1, Part 3, Part 4
"You can't prepare for everything life's going to throw at you. And you can't avoid danger. It's there. The world is a dangerous place, and if you sit around wringing your hands about it, you'll miss out on all the adventure." ― Jeannette Walls, Half Broke Horses
In our first mythbuster post, we talked about how easy it would be to sustain oneself foodwise while traveling in the developing world. Today we're going to talk about the dangers(perceived and real) of traveling solo.
Granted, Jo and I haven't experienced solo travel ourselves.  But what we will share with you in this post still debunks the myth of it being too dangerous to travel the world by yourself.
We're saying you can totally go for it, and we base that statement on information culled from so many solo travelers we've met, and also from just plain common sense…which we know all of our readers have.
The truth is it can be just as dangerous moving around solo in your own hometown cities as it can be traveling abroad. You just happen to know which areas of the cities to avoid, so it gives you confidence that you're totally safe.
And besides, there are actually quite a few advantages to solo travel if you're willing to take the leap.
Ladies, I am a firm believer that you are just as capable, powerful, and awesome as the guys are…but the fact of the matter is that in foreign countries you will tend to be singled out more as a solo traveler.
Having said that, most of the tips below will apply to everyone traveling solo, regardless of gender.
If you're planning to travel on your own, bravo!  We're proud of you for taking a leap that will truly help you grow as a person.
We have no doubt that you'll fare very well in your travels if you remember this acronym:
A.W.A.R.E.
A

lert Yourself  To Your Surroundings

Would you walk down some random alley that is not well-lit at night in your own hometown? Probably not. The same holds true during your travels.

Be alert to what's happening around you, and when possible, avoid walking around late at night. Trust your gut. Something about a situation doesn't feel right? Move along.

You can't be alert if you're intoxicated. If your idea of a fun evening is to get totally blasted on drinks, it would be a good idea to scale back that habit for solo travel.

On a number of occasions, Jo and I have heard of folks who went out drinking and woke up somewhere on the street with their wallet missing. Sadly, it could have been prevented with a bit more alertness.

If you're a drinker, make it a point to watch who pours your drink.  As much as possible, get them to pour it in front of you or bring you a sealed container that you can open yourself.
W

ear(Dress) For The Part

What is acceptable attire in the country? If you will be visiting a more conservative nation, plan to dress according to their accepted norms.

The reality of international travel is that you are a visitor to a place that may or may not share any of the cultural norms accepted in your own home country.

That spaghetti strap tank top and denim shorts combo might be totally fine by you(and in some circles maybe even plain Jane'ish).  But in some countries, you might as well have walked out of your house in your nightie.

Other countries already have a misguided view that the we in the West are "totally open and accepting" when it comes to the topic of sex and relationships.  Disregarding their customs when visiting only serves to reinforce that perception and draw unwanted attention to yourself.

"But I'm friendly and easygoing with people," you might say.  Communicate it by conversation and a good attitude…not by how much skin you're comfortable with revealing.

Oh…and all that fancy bling-bling you're used to flaunting back home? Leave it. While your friends might be impressed…the only impression you will give abroad is that you're a great target for a jewelry snatcher.
A

rm Yourself Adequately

Not with a gun or other lethal weapon. Things could get really out of hand with those. Arm yourself with thorough knowledge of the place your visiting. Google as much as possible about your target country before your trip.

Is the hostel you plan to stay at in a good part of town? Read the hostel reviews, and most of the time someone will tip you off to whether the place is dodgy or is safe, clean, and frequented by most tourists.

When it comes to getting recommendations for going out, touring, and the like, the advice of other travelers is generally more reliable than that of locals.

Reason being, taxi drivers and other tourism-connected people have an incentive to steer you to certain establishments for commissions. While this is not dangerous per se, you'll probably have a much more enjoyable experience based on hearing the experience of other travelers.

It's easy…just ask around in your hostel or hotel, and other travelers are more than happy to help!

Some great resources for scoping a destination out in advance of your trip there are:
R

apport Is King

When you walk around your hometown, do you say hello and smile at others around you? Of course you do!  It's how you meet your neighbors, and also how you make new friends.

There is safety in numbers, and this has never been more true than with travel. As a solo traveler, it behooves you to get to know your fellow hostelers. Strike up a conversation about where they've been, where they are going, and how their travels have been overall.

Most people are in the same boat as you are. They are on the road for a little while, and are looking for tips for their next destination and are also excited to share with you anything they can to help you with yours.

As a solo traveler, you're not really alone.  You're part of a fraternity of explorers.  Form alliances. Increase your network. Not surprisingly, you'll often find groups of "solo" travelers with concurrent itineraries who became travel buddies for a short while before going separate ways.

When you build a rapport with other travelers you meet, there's a very good possibility you'll buddy up with them for tours and even meals and outings. You'll benefit from newfound friendship, reduced travel expenses, and an increased margin of safety since you're not alone for the time being.
E

mergency Contacts Are Important

While your common sense and wits should keep you out of trouble, it's not a perfect world. There's no guarantee that you won't encounter any trouble, so in the event you do…make sure you understand how to get help.

Back home, you've probably memorized the numbers for emergency, fire, and police.  While these services are available abroad, they are not likely to use the same numbering system.

An excellent resource for finding the currently used phone numbers by country can be found on HERE.

As a solo traveler, you don't have access to your friends while you're on the road. So your best friend in a foreign country is your embassy.

Get on the embassy's website. They usually announce any late-breaking news for the area that you should be aware of. At a minimum, register with them and give them a way to reach you(email/mobile-phone) in case there is a need.

This is particularly important if you visit a country that doesn't have the most stable political system(which is true of quite a few countries). By getting on the local embassy's list, you'll be one of the first to know if something is up and it's time to shelter in place or leave the country.

It's not as scary as you think it would be to travel around the world solo. It mostly comes down to three things: common sense, respect for yourself, and respect for the culture you're visiting.

Staying A.W.A.R.E. helps, and part of that is to do your part in continuing to educate yourself about the world at large and the places that you are planning to visit. Even when you're already there, keep a pulse on things.

And while being prepared is important, being paranoid doesn't help you at all. Think of it like riding your bicycle: Checking your brakes, wearing reflective clothing, and putting on a helmet won't make you invincible to an oncoming car. But you're still gonna get out there on your bike, right? Right.

If you need inspiration from others who have traveled solo and who enjoy sharing all about their adventures, here are a few amazing world travelers to follow:
Jodi @ Legal Nomads – With over four years of solo travel under her belt, Jodi is the consummate female solo traveler.
Shannon @ Alittleadrift – Normally travels solo, but just finished a 9-month stint with her 12-year old niece in tow to give her an experience of a lifetime.
Matt @ Nomadicmatt – Matt has been traveling for 6 years straight. He's written several books on travel, and has been featured in various media including CNN, Lonely Planet, and The New York Times.
Kate @ Adventurouskate – A solo female traveler since the age of 26, Kate's ultimate goal is to show women that solo travel can be safe, easy, cheap and a lot of fun.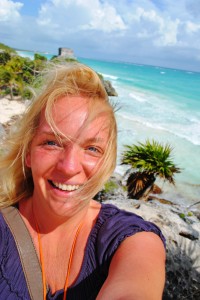 Gray @ Solofriendly – Gray didn't have any friends who were as daring and adventurous as she was, so she decided to conquer the open road on her own, and share why you should too.
Colin @ Exilelifestyle – A minimalist, artist, and entrepreneur, Colin has been on the road for years.  He moves to a new country every 4 months, and the new location is voted on by his readers.
Janice @ Solotravelerblog – Solo traveler, author, and speaker Janice Waugh has just released the definitive guide to traveling solo: The Solo Traveler's Handbook.
Ernest @ Fly-Brother – We met solo traveler and all around cool cat Ernest at WDS 2011. He travels the world and writes frankly and unapologetically about it from a brother's point of view.